7th International Conference

on


Game and Entertainment

Technologies 2014

15 – 17 July, Lisbon, Portugal
NEW Final Program

NEW Social Event

NEW Guidelines for Presenters

NEW Keynote Speaker (confirmed):
Professor Boyan Bontchev, Department of Software Engineering, Sofia University, Bulgaria
The Game and Entertainment Technologies conference aims to bring together research and practice from creative, social and business practitioners and researchers in this challenging field. The focus of this conference is on design, development and evaluation of games, entertainment technologies and the nature of play.
The conference proceedings will be submitted for indexing to INSPEC, EI Compendex, Thomson ISI, ISTP and other indexing services.
NEW Selected authors of best papers will be invited to submit extended versions of their papers
to selected journals including journals from

NEW The best papers will be selected for publishing as extended versions in the
IADIS International Journal on WWW/Internet (ISSN: 1645-7641).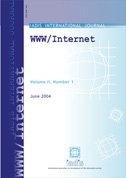 Conference Official Language: English
This is a blind peer-reviewed conference.
Conference contact: secretariat@gaming-conf.org